Kamishibai
Back to Product List »
A traditional Japanese storytelling theatre.
Story cards have pictures on the front and writing (in numerous languages including English) on the back. The teacher slides in the first card and, while the children look at the picture on the front, the teacher reads the story off the back.
The children can engage with the stories and talk about the pictures. Also included in each set of story cards is a '?' question mark card. The teacher can slide this in and ask the children what they think happens next, or why a character is acting in such a way, etc.
The stories available come from many different countries and cultural backgrounds. We have stories from Asia, Africa and Eastern Europe, for example.
The Kamishibai DOES NOT come with any story cards. These must be bought separately.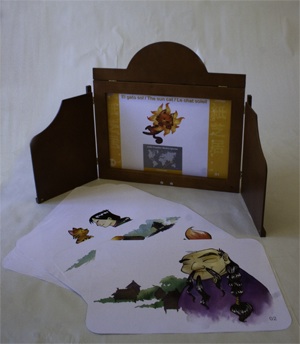 €0 Euro