Torsty Blocks
Back to Product List »
CURRENTLY OUT OF STOCK
A set of 36 colourful wooden blocks, housed in a wooden box, used to create a limitless variety of pictures and patterns.
This educational toy complements the developmental skills promoted in the national curriculum, providing hours of fun along the way.
Four levels of difficulty are included, developing a wide range of skills from the ages of 4+.
The wooden blocks are cut from sustainable birch forest and measure 35mm in size.
There are only three different styled blocks. This promotes simple sorting and selection.
With these 36 blocks, thousands of different combinations are possible, allowing for a neverending challenge.
Keep all your Torsty Blocks safe and sound by storing them away in yoru specially designed Torsty Wooden Box. The sliding lid may be turned over to act as a play tray.
-promosted parent and child interaction
-improves hand-eye-co-ordination
-simulates colour and shape recognition
-encourages creative play
-assists problem solving and sequencing
-deveops spatial awareness
-allows for limitless artistic deveopment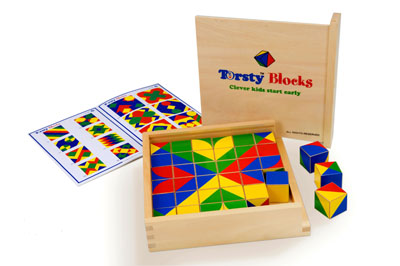 €0 Euro